Dutch newspaper

De Telegraaf

 reveals attempts by the Ministry of Justice and Safety to obfuscate the amount of

crime committed by asylum seekers

. In an article published on 16 May, the paper writes that despite promises of openness, the Ministry has attempted to hide serious crimes by misnaming them 'other incidents'. Those 'other incidents' include rape cases and child abuse.
This deliberate attempt at misleading the public comes after De Telegraaf had to resort to legal steps in 2017 to get data on crimes committed by asylum seekers. Then, the Ministry denied keeping a separate registration, claiming it had no figures to release. In reality, the police kept statistics, with De Telegraafclaiming the sheer volume of the files kept the authorities from releasing the information.
In what the paper dubs a 'painful affair', two years later the Ministry is up to its old tricks again. The aim is yet again to obscure: it is the Ministry that grouped a 1000 'other crimes', and yet again De Telegraaf had to resort to police sources to fill in the deliberate blanks.
Of the 1000 'others', 79 were sexual offences, ranging from sexual assault, to sexual abuse of children, to rape, to possession of child pornography. Police were called for 51 cases of battery, 31 cases of murder or manslaughter. There were 5 counts of kidnap or hostage taking, 4 times it was for human trafficking, and 73 times there was a disturbance of the peace.
The Ministry, meanwhile, professes its innocence. A spokesperson blames the police for not giving exact enough data. But the fact that the police has the information, implies that the Ministry could have demanded the information, according to Jasper van Dijk, MP. He concludes that "it is remarkable that the Ministry didn't report this [want of information], this is a lack of transparency. We need to know what we are debating."
The 1000 'other' crimes paint a less than sterling picture of the situation in and around asylum locations. In total, the police registered 4600 crimes committed by asylum seekers in 2018. Shoplifting (2030 cases) was popular, followed by pickpocketing, stealing purses, physical abuse and making threats.
read the rest of the article here.
Fighting violent crime one kitchen utensil at a time
A police force in the

UK

has been ridiculed for bragging about fighting knife crime by confiscating a spoon.
Regents Park Police said that a local charity shop had handed over a collection of potentially dangerous weapons to prevent criminals buying them.
"Yesterday we conducted weapons sweeps, dealt with a person injured from a van reversing on them, reported a burglary and collected all these from @scope charity shop who diligently didn't want them to get into the wrong hands & disposed of correctly & safely," said the police force in a tweet.
Eagle-eyed observers soon noted that amongst the trawl of deadly weapons, most of which were cooking knives and letter openers, was a spoon.
That's right. With violent crime soaring and street gangs becoming more vicious, police in London are confiscating spoons.
"They CHOSE to include the spoon," commented journalist Tim Pool. "They could have just left it out. They really do think spoons are dangerous."
"Cereal killer," joked another respondent.
"If you can't trust the new Londoners you imported to handle spoons without stabbing someone, perhaps you have a problem which requires more than spoon confiscation to solve?" asks Chris Menahan.
The same police force was also ridiculed last year for confiscating pliers, scissors and a screwdriver.
The war on spoons doesn't really seem to be helping reduce knife crime in the UK, which recently hit its highest level since records began.
———————————————————————————————————————
There is a war on free speech. Without your support, my voice will be silenced.
Please sign up for the free newsletter here. Donate to me on SubscribeStar here.
Support my sponsor – Turbo Force – a supercharged boost of clean energy without the comedown.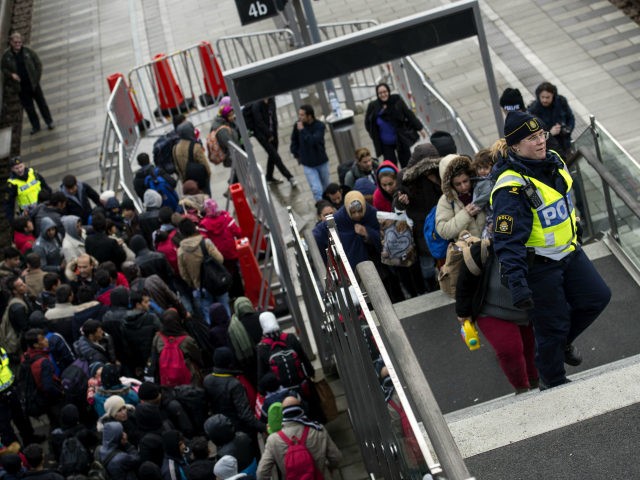 By Chris Tomlinson
A new survey at attitudes towards migration across Europe has found more than half of Swedes say

they do not want to see the country take in more refugees

, making it one of the most migration-sceptic nations.
Around 8,000 people in Germany, Poland, Spain, Hungary, Italy, Belgium, France and Sweden were asked a series of questions in the survey, including "Do you agree with the statement: 'My country should not receive more refugees from conflict areas.'?" to which 51 per cent of the Swedish respondents said they agreed, Spanish newspaper El Paisreports.
While both Poland and Italy were tied with 53 per cent saying they agreed with the statement, the Swedish number exceeded that of Hungary, a nation noted for its strong anti-mass migration stance and policies, at 49 per cent.
More than one-third, 35 percent of the respondents across all of the countries surveyed, said that immigration was the most important issue facing the European Union today but only 14 percent said that the European Union had managed to handle the migrant crisis in 2015 and 2016 in a competent manner.
By contrast, 41 percent of Germans say they would welcome more refugees despite being the largest recipient of migrants during the height of the migrant crisis, and the challenges of rising crime, increased spending and lack of both cultural and economic integration.
For Sweden, migration has been a core issue in elections since the height of the migrant crisis in 2015, with the issue dominating the 2018 national elections, according to similar surveys taken last year.
Several reports in Sweden have highlighted the issues surrounding mass migration, including an unpublished report earlier this year that proved that the costs for an increase in migration promised by the Swedish government earlier this year would be far higherthan the initial stated estimates.
Another report, from Swedish broadcaster SVT, revealed the extent of migrant rape rates, claiming over a period of five years, migrants made up 58 percent of those convicted for rapes. The number jumped to 85 percent when accounting to violent rapes in which the victim did not know the perpetrator beforehand.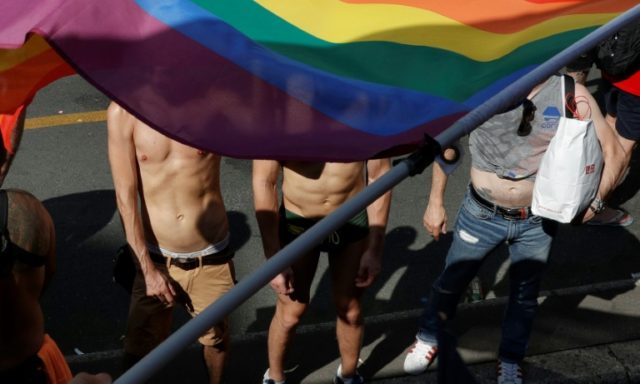 By AFP
Paris (AFP) –

Assaults

in France on lesbian, gay, bisexual and transgender people hit a new record in 2018, "a dark year" for the LGBT community, French group SOS Homophobie reported Tuesday.
The non-profit association registered 231 physical attacks, up from the previous annual record of 188 anti-LGBT assaults back in 2013 linked to same-sex marriage legislation.
"2018 was a dark year for LGBT people," said SOS Homophobie co-presidents Véronique Godet and Joël Deumier in the yearly report.
The number of assaults jumped 66 percent over 2017, with a spike towards the end of the year when a case a day was being reported to the group.
SOS Homophobie's helpline, website and legal services collected 1,905 statements from witnesses of abuse of the gay community, 15 percent more than the previous year.
The breakdown of cases, which could involve multiple categories, showed 62 percent involved rejection, 51 percent insults, 38 percent discrimination and 20 percent harassment. Threats and defamation made up 17 percent each with physical assault on 13 percent.
Some 66 percent of witnesses were men, who were "more inclined to talk about it and turn to SOS Homophobie to denounce what they suffered".
The association said the 42 percent leap in reporting of violence against lesbians appeared linked to the greater willingness of victims to speak out and the influence of the #MeToo movement.
With 23 percent of reported cases, Internet was the leading place for the expression of LGBT phobia in France.
Facebook and Twitter act like an "echo chamber" of daily cases with the social networks recording more than half of all reported cases, the group said.
Published on May 14, 2019
In just another day for the dumpster fire that is

Buzzfeed

"News," activist "journalist" Joe Bernstein wrote up an article targeting a 14-year old girl who makes YouTube videos for the crime of having right-wing political views.
The article, titled "YouTube's Newest Far-Right, Foul-Mouthed, Red-Pilling Star Is A 14-Year-Old Girl," desribes a YouTuber going by the name "Soph," who makes videos with social commentary about current events and culture, often filled with vulgar language one wouldn't expect to come from a 14-year old girl.
Bernstein quickly makes his reason for publishing the article clear, seeming to make a call for her removal from the platform in his sub-title, writing: "'Soph' has nearly a million followers on the giant video platform. The site's executives only have themselves to blame."
The majority of his article is targeting one video in particular, where the YouTube star wears an Islamic chador and makes a joking apology for comments she made about Islam.
WATCH BELOW (WARNING, VULGAR LANGUAGE):
In the video, Soph uses absurdist comedy in her commentary about Islam, where she does touch on a lot of issues prevalent in radical Islam.
Starting off the video, she declares that she has "become a devout follower of the Prophet Muhammad," describing it as mostly being a "f*** ton of fun," despite having to be raped by her 40-year old husband.
She also discusses Muslim rape gangs, which are a very real thing in the Islamic world.
For doing this, Bernstein believes that YouTube should shut her down.
He claims that the platform is exploiting children by allowing them to have right-wing views on the platform, writing:
"Users — and more importantly to YouTube, advertisers — have over the past year started to hold the platform accountable for enabling the exploitation of children and exposing them to disturbing content. But this video reveals an entirely different way the platform is harming kids: by letting them express extreme views in front of the entire world. This is what indoctrination looks like when it's reflected back by the indoctrinated."
Since the release of the article, Soph appears to have begun facing targeting from YouTube, being temporarily blocked from uploading  on the platform.
Along with trying to get her shut down, Bernstein called her father to try to get comment for the story, something Sophia Levin, the former New Yorker journalist who was fired after lying about an ICE agent being a Nazi did as well.
The targeting of Soph is almost certainly due to her massive reach online.
She has amassed a massive audience of over 800,000 subscribers on YouTube, along with bringing in over $1,400 a month from monthly donors on Patreon.
Her  popularity can likely be credited to a growing resentment for the "social justice warrior" culture among young people growing up in the Internet age. With free access to information, many young people in Generation Z, or what Soph would call "Zoomers," are finding themselves latching onto more conservative viewpoints in rebellion to the status quo of the previous Millennial generation.
This seems to be a clear attack on Soph for her beliefs, as they have in the past written glowing articles defending young kids who hold left-leaning views.
Just three days before Bernstein's article, Buzzfeed wrote up an article defending an 11-year old "drag queen" who was reported to child protective services. That same child was spotted dancing on stage at an adult gay club while throngs of adult men showered him with money.
Bernstein, who has long targeted those holding anti-social justice warrior views, by evidence of his similar targeting of former Adult Swim star Sam Hyde, was also exposed by journalist Nick Monroe for holding his own extremist views.
In a Tweet, Bernstein once said "KILL a straight white man on your way to work tomorrow".
So this is the left in 2019. Targeting 14-year old girl for holding opinions they don't like.
A body of another child was found on another alleged terror training camp in New Mexico, run by the same Islamist suspect.