By Ethan Cai
GWU students recently voted to change the school's "Colonials" mascot and told Campus Reform that President

Barack Obama

is the best president in history.

Campus Reform went undercover to

George Washington University

to ask students if they supported changing the "offensive" and

"oppressive"

white man in crosswalk lights, as well.

With the rise of politically correct culture, students and universities have vehemently pushed for diversity and inclusivity movements, resulting in many things being labeling "offensive."

In the past, students have signed fake petitions to ban "offensive" holidays like Valentine's Day and even Christmas to push diversity and inclusion.

"I can see like, I guess, why some students have a problem with it… I'll totally sign that."    

Tweet This

[RELATED: VIDEO: GW students say 'Colonials' mascot too offensive]

Amid these ongoing diversity and inclusivity movements, Campus Reform went to George Washington University in Washington, D.C., where students previously voted to ban their "offensive" Colonials mascot. GW students also previously told Campus Reform that President Barack Obama is the best president in U.S. history.

Campus Correspondent Ethan Cai asked George Washington students if they supported changing "offensive" crosswalk lights because the "walk" sign only portrays an image of a white man.

How far will this movement of diversity and inclusion go? Where will the line be drawn for what is considered offensive?

WATCH:

"As we students cross the street, we are told by the symbol of a white man when it is okay to cross," the fake petition stated. "Many students from diverse backgrounds, including individuals of color, gender fluid individuals, and LGBTQA+ individuals, feel oppressed by this."

[RELATED: VIDEO: Students at George Washington University say Obama is greatest president ever]

By signing the petition, students "vehemently urge[d] the University to consider changing the crosswalk signs."

Many students signed Campus Reform's fake petition. Even one university faculty member expressed support, as well.

"There's definitely a lack of representation," one student said about the crosswalks. Another said that she thought the change would be "one step" to a more welcoming campus environment.

[RELATED: VIDEO: Students sign fake petition to ban 'Hurricane' mascot at U. Miami]

"That's so cute! Oh my god yeah," a student said with excitement about the idea. "I can see like, I guess, why some students have a problem with it… I'll totally sign that."

"Oh that's so lit," another student exclaimed.

What did other students say? Watch the full video above to find out.
By John Anderer
CANTERBURY, England — "Doomsday prepping" or stockpiling food, medicine, weapons and other supplies in case of an apocalyptic scenario has long been considered peculiar behavior only exhibited by conspiracy theorists and other extremists in the United States. However, such prepping has actually been steadily on the rise in the U.S. over the past decade. So, what's causing this surge in stockpiled rice packets and underground bunkers? One group of researchers say it is an ever growing sense of impending doom in American culture.
Many have speculated that this surge in doomsday preppers over the last 10 years was linked to an extreme political reaction among many conservatives to Barack Obama's initial election in 2008, but a new study out of the United Kingdom finds that neither the Obama presidency nor extreme right-wing conspiracy theories in general are the main cause of this growing phenomenon.
Researchers interviewed preppers from 18 U.S. states and asked about their motivations for stockpiling food and supplies. The results indicated that, although most did seem to be conservative and fear liberal policies, the main reason behind their motivations was the overall sense of fear currently dominating U.S. culture across a variety of media channels. Most Americans can't seem to log online or turn on the television without being hit by a grim view of the future being reported or speculated on.
Potential occurrences commonly worried about by preppers include possible economic depressions, terrorist attacks, cyber-attacks, pandemics, or environmental disasters.
Furthermore, researchers say that frequent recommendations from the U.S. government on how to prepare for potential disasters, such as when residents of certain communities are advised to stockpile water in preparation for a hurricane or blackout, have also contributed to the rising number of doomsday preppers in the United States.
The study's authors say their findings paint a more nuanced picture of doomsday preppers and their motivations, especially since up until now most were simply considered crazy or delusional. According to their results, most preppers don't believe the world will end tomorrow or a giant meteor will hit the earth at any moment, they simply want to be prepared for anything "just in case" something terrible happens.
Researchers note that while extreme right-wing ideologies don't seem to be the main cause of these fears and preparations, the general idea among many conservatives that if a Democrat regains control of the White House it will inevitably lead to chaos remains very much connected to the phenomenon of doomsday preppers. At the end of the day, though, that is just another possible event for conservative preppers to fear, and not themain cause.
"Fear is now deeply entrenched in modern American culture and is the principal reason that so many citizens are engaging in 'prepping'," explains lead author Dr. Michael Mills in a release.
According to Mills, these preppers believe that if the worse were to happen, the government's response simply wouldn't be adequate and many people would be left to fend for themselves.
"Rather than seeing prepping as an exception within America's right-wing political culture, we ought to see it as being reflective of increasingly established and popular outlooks," Mills comments.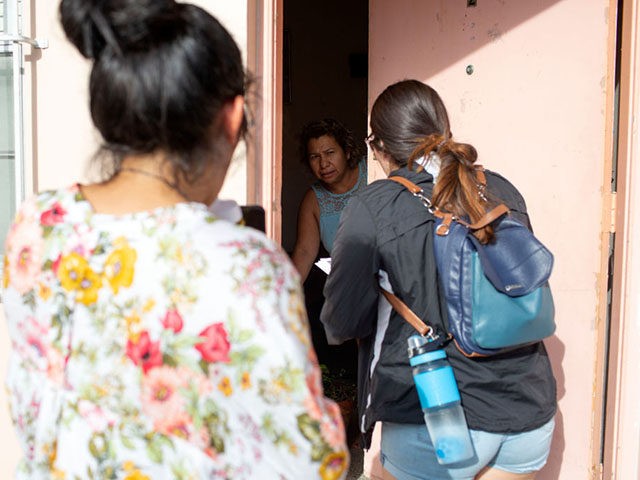 By Amy Furr
Government leaders in

Illinois

urged illegal aliens to know their rights after U.S. Immigration and Customs Enforcement (ICE) agents were reportedly seen in a Chicago neighborhood on Thursday.
"If @ICEgov tries to intimidate you or your family, know your rights," Illinois Gov. J.B. Pritzker tweeted. "The state of Illinois refuses to coordinate with federal immigration enforcement. I signed a law ensuring local law enforcement does the same. We're doing all we can to protect our residents."
Byron Sigcho-Lopez, 25th Ward alderman, tweeted that his office had received reports of ICE agents approaching businesses and homes in the Pilsen area.
"We've confirmed these reports with the National Immigrant Justice Center," he said.
The reports come after ICE agents arrested 680 illegal aliens in Mississippi this week, the largest single-state raid in U.S. history, Breitbart News reported.
The individuals were arrested at seven food processing plants across six cities including Bay Springs, Carthage, Canton, Morton, Pelahatchie, and Sebastapol.
"According to federal officials, some of the hundreds of illegal aliens arrested on Wednesday have already been ordered deported by an immigration judge and have refused to self-deport. Those illegal aliens will be quickly deported," the report said.
A press release from the ICE website stated that the agency will investigate the individuals arrested on a case-by-case basis.
"In all cases, all the illegal aliens encountered as part of this operation are either being placed into removal proceedings before the federal immigration courts, and for those who already received due process and have been ordered removed, processed for removal from the U.S.," the release said.
However, Rep. Sheila Jackson Lee (D-TX) called on President Trump during an interview Thursday to stop the raids, comparing them to the tactics of the Nazi secret police.
"I think it's unfortunate when ICE has to be made into this kind of agency and to be an intimidator rather than an agency that has in the past made sure that we are safe in this nation," she said.
"But when their neighbors are rounded up in a vile way, when children are left unprotected, I'm disappointed. And the president and Stephen Miller need to stop these Gestapo tactics, and we need to work together to pass comprehensive immigration reform," Lee concluded.
Nice! Chances the Baltimore Sun retracts? I'm not betting on it, although of course, they should.
Weasel Zippers – AUGUST 9, 2019
Nice! Chances the

Baltimore Sun

retracts? I'm not betting on it, although of course, they should.
Mark Levin uses

Elijah Cummings

own words to destroy the narrative that even the word "infested" is a "dog whistle" for racism.
But only Trump was called a bigot
By Paul Joseph Watson – JULY 31, 2019
President Trump has been labeled a racist for using the word "infested" to describe Baltimore's rat problem, but

Elijah Cummings

used the exact same word to describe the city back in 1999.
As the video below highlights, CNN slammed Trump for using the word "infested" to describe Baltimore, suggesting that the president was dehumanizing black people.
However, during 1999 testimony, Elijah Cummings referred to his own district as a "drug infested area.
I guess Elijah Cummings is racist too.
As we previously highlighted, Bernie Sanders also claimed Trump was "attacking" an American city by calling Baltimore rat infested yet Sanders himself repeatedly said the place resembled a "third world country" back in 2015.
Meanwhile, Benny Johnson visited residents in Rep. Cummings district to find out what life is really like there.
Common themes; Rats, trash, crime, corrupt politicians.
Are they all racist too?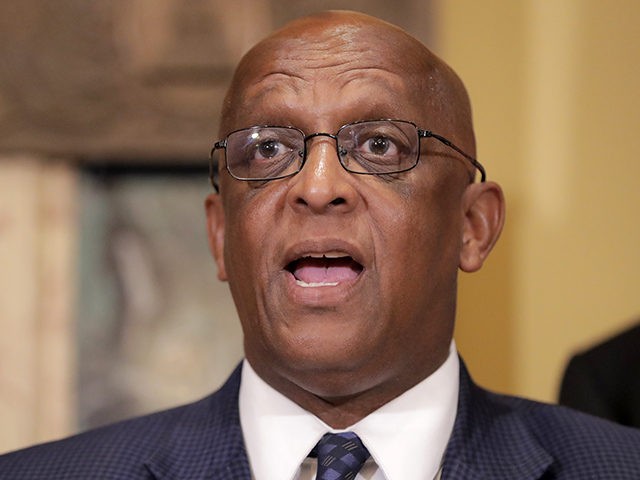 By Joshua Caplan and Ezra Dulis
Baltimore

Mayor Bernard "Jack" Young (D)

said Monday that

President Donald Trump

should send federal assistance to the troubled Maryland city instead of criticizing its management — though the mayor's budget is already spending $66 million in federal grants this year alone.
"If he really wants to, he needs to send us the federal assistance — not only to Baltimore, to cities around this country that are in the same situation that Baltimore is in — but he's so interested in childish tweets," Young (pictured) said in an interview with CNN New Dayco-host John Berman.
Young's remarks follow a string of fierce criticisms from President Donald Trump directed at Rep. Elijah Cummings (D-MD), whose district encompasses Baltimore. Over the weekend, the president blasted the 13-term congressman for the Maryland city's worsening conditions, calling it a "disgusting, rat and rodent infested mess" and a "very dangerous & filthy place." He also said conditions in the city are "far worse" and than those at the U.S.-Mexico border detention centers.
"I mean, if you want to help us, help us. Don't talk about it, send the resources we need to rebuild America," Young stated. "He's talking about he wants to 'make American great again.' Put the money in the cities that need it the most and that way you can make America great again."
According to the official copy of the city's Fiscal Year 2019 budget, Baltimore is already spending "$66.3 million in federal grants," and its "federal fund operating appropriation is budgeted at $165.9 million."
"In Fiscal 2019… the Federal government is providing a combined $30 million for the renovation of City streets, highways, and traffic engineering projects," the document reads on page 185.
Several line items of "Federal Fund Appropriation" include $1 million for "general services," $2.38 million for "Youth Violence Prevention," $8.77 million for "Housing and Community Development," and a whopping $29.19 million for "HIV Treatment Services for the Uninsured."
The city's budget was finalized under former mayor Catherine Pugh, who resigned just months ago amid a scandal alleging "self-dealing" arrangements, where entities seeking to do business with the city reportedly bought thousands of copies of a children's book by Pugh to boost its sales numbers. Young, who was city council president at the time of her resignation, became acting mayor and will potentially face his first election for the position in 2020.
If President Trump were to send federal assistance to Baltimore, he would not be the first president to do so in the last decade. In 2009, Baltimore received $1.8 billion from then-President Barack Obama's American Recovery and Reinvestment Act (ARRA) — however — the Democrat-controlled city has yet to see its fortunes turn around despite the massive investment.
As the Washington Free Beacon reported, the Obama administration allocated $1.8 billion of its 2009 stimulus to Baltimore. Of the investment, $26.5 million was aimed at crime prevention, $26 million to revitalize vacant buildings, and $9.5 million to tackle homelessness.
Despite receiving considerable aid, violence continues to plague Baltimore with homicides on track to pass 300 for the fifth consecutive year. A Breitbart News analysis of 2018 homicide rates shows Baltimore's homicide rate, which stands at 51 per 100,000 residents, was, in fact, "higher than Honduras and nearly the same as in El Salvador."
Published on Jul 30, 2019