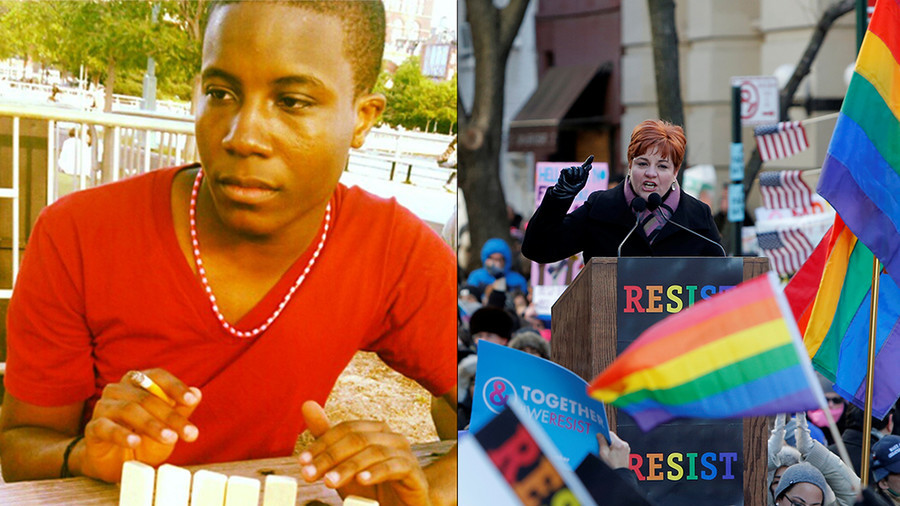 Synagogue vandal James Polite seen alongside his former mentor, New York Democrat Christine Quinn © Facebook / Abraham Aali and Reuters / Andrew Kelly
In a bizarre twist, the man who spray

painted anti-Semitic graffiti

on a Brooklyn synagogue turned out to be "queer," black, former anti-hate-crime intern, James Polite: a 26-year-old with loving Jewish foster parents.
Less than a week after a gunman murdered 11 worshippers at a Pittsburgh synagogue, anti-Semitic graffiti was found scrawled inside Union Temple in Brooklyn's predominantly Jewish Prospect Heights neighborhood. The graffiti read "Die Jew Rats" and "Hitler."
A Democratic political event scheduled at the synagogue on Thursday night was canceled, and police investigated the incident as a hate crime. After being caught on the synagogue's CCTV cameras, James Polite was arrested on Friday.
Far from being an archetypal tattooed skinhead, Polite is a black former Democratic intern who had his college education bankrolled by the New York Times' 'Neediest Cases Fund.'
Polite had a rough upbringing, according to a 2017 New York Times profile. He told the Times he identifies as "queer" and felt misunderstood at home. As a young teenager, he requested that he be placed in foster care, and spent the following years shunted from home to home.
"Nobody gotta die. Mexico, latin America, carribean (sic) vs. Jew n*gger pigs. One person touch me this whole shit a smoking," he wrote.
In the comments, friends urged Polite to seek professional help, and his one-time mentor Quinn wrote after his arrest that she was "simply and utterly devastated."
"I knew this young man," she wrote. "And while he has experienced hardship that most people can't ever imagine, his actions are inexcusable."
While Polite's life seems to have gone down a dark path, from New York Times poster boy to synagogue vandal, he is not the first unlikely suspect to be busted for hate crimes in recent years. Last year, Israeli police arrested a 19-year-old Israeli Jew in connection with hundreds of bomb threats made to Jewish community centers across America.
Think your friends would be interested? Share this story!