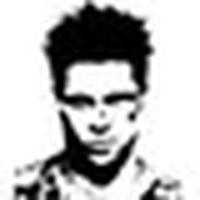 Summary:
First death in Indonesia

Washington State to ban events over 200

'Waffle House' employee in Atlanta confirmed

Chicago cancels St. Paddy's Day parade

NY sends in National Guard

IADB cancels meeting in Colombia as virus spreads across Latin America

Mnuchin says first part of virus stimulus plan will be ready in 2 days

Dr. Fauci warns virus 10x more deadly than flu and could infect millions if not handled early

FEMA evacuates Atlanta office over coronavirus scare

3 Boeing workers test positie

Washington DC advises cancellation or postponement of all gatherings with more than 1,000 people

Harvard to prorate room and board for students

US cases surpass 1,000

UK Health Minister catches virus

Ireland, Bulgaria, Sweden report first deaths

UK total hits 456 following largest daily jump on record (83 new cases)

Global cases pass 120,000

South Korea reports new outbreak in call center

Japan reportedly planning to declare state of emergency
*  *  *
Update (1220ET): Three Boeing workers have tested positive for the virus, the company said. Though Boeing offered few details, we suspect the employees are probably based in Washington State, where Boeing builds its planes.
In Washington DC, authorities are recommending the cancellation or postponement of all "non-essential" gatherings over 1,000.
As students leave campuses around the country either heading back home or hunkering down finish their classes on line, Harvard just announced that it would "pro-rate" students' room and board.
*  *  *
Update (1220ET): With the committee in charge of the Tokyo Olympic Games reportedly planning to suggest that the games be delayed, more images of the coronavirus fears' impact on international travel are circulating online. Check out this.
*  *  *
Update (1200ET): The CDC has released its latest batch of "confirmed" US figures: 29 deaths, 987 cases and cases confirmed in 39 states as of 10 pm last night.
U.S. CDC – 39 STATES HAVE REPORTED CASES AS OF MARCH 10 AT 4 PM ET VS PREVIOUS REPORT OF 36 STATES

U.S. CDC – 29 TOTAL DEATHS DUE TO NEW CORONAVIRUS AS OF MARCH 10 AT 4 PM ET VS 25 DEATHS AS OF PREVIOUS REPORT

U.S. CDC REPORTS ITS COUNT OF 987 CASES OF NEW CORONAVIRUS AS OF MARCH 10 AT 4 PM ET, VS PREVIOUS REPORT OF 696 CASES
Around the world, the virus has produced many "isn't it ironic?" moments, and we just got another in the US when FEMA announced that it would close its Atlanta office after an employee was exposed to the virus.
FEMA ATLANTA OFFICE CLOSED AFTER EMPLOYEE EXPOSED TO VIRUS
Over in the UK, a total of 456 people have tested positive for coronavirus in the UK as of 9am on Wednesday, up from 373 at the same point on Tuesday, the Department of Health said. The jump of 83 new cases is the largest daily jump yet, following the previous 'largest daily increase' by only a few days.
Six have died in the UK and tested positive for the virus. Over in Ireland, authorities reported their first death on Wednesday. A 66-year-old Bulgarian woman also succumbed to the virus in the Balkan state, marking the first death there as well.
After the UK Health Minister Nadine Dorries tested positive for the virus, and started showing symptoms on Thursday, the same day she attended an event with the prime minister. Though the UK has elected to keep parliament open, Dorries and a Labour lawmaker who may have been exposed via a meeting with Dorries have decided to self-quarantine.
UK Chief Medical Officer Catherine Calderwood stressed that "we are still in the containment phase" despite an increased number of Covid-19 cases.
She said: "We have identified the first case of community transmission in Scotland which is unrelated to contact or travel. This was identified through our enhanced surveillance scheme.
Sweden has reported its first death from the coronavirus today, with a hospital in Stockholm saying an elderly patient had died in intensive care. Belgium has reported its first three deaths, with 314 cases of coronavirus. Ivory Coast has confirmed its first case of coronavirus, a 45-year-old Ivorian man who had recently travelled to Italy, the health ministry said in a statement. Denmark confirmed a batch of new cases, raising its total to 442.
While Washington State is apparently planning to ban all events with over 250 people, Washington DC has advised citizens to avoid such gatherings.
While
*  *  *
Update (1150ET): Rencap's Charlie Robertson points out that it took 5 days since the first indication of human-to-human transmission happening at a wide scale in the US, and if our numbers track Germany's, we should have 3,000 cases confirmed by Friday, and 6,000 by Monday.
Though that rate could double if many new clusters are discovered.
*  *  *
Update (1100ET): With another day of non-stop breaking news headlines about the outbreak as it spreads across the US, Europe and Latin America, we've been having troubled keeping up.
Switzerland reported 148 new cases of coronavirus on Wednesday, with 645 cases in total, 58 cases in Zürich and 78 cases in Geneva.
Indonesia, an Asian nation that didn't report its first case until more than a month after the global outbreak began reported its first death linked to the virus on Wednesday as well.
National Guard troops have been deployed to a Health Department command post in New Rochelle. Chicago has followed San Francisco and cancelled its St. Patrick's Day Parade. In NYC, schools will not close, but parent-teacher conferences will be held via phone.
An employee at a 'Waffle House' in Metro Atlanta (Cherokee County) has tested positive for the virus, raising fears about a mass outbreak in Georgia. The store has been closed and 12 employees are quarantining and will continue for a few more days.
The Inter-American Development Bank postponed its annual meeting in Colombia, which had been scheduled for next week, over coronavirus fears as the virus spreads across Latin America. The Washington-based bank, the top development institution dedicated to Latin America and the Caribbean, announced the decision with Colombian President Ivan Duque on Tuesday evening.
With transports and financials leading equities lower on Wednesday, Treasury Secretary Mnuchin, who testified to Congress on Wednesday tried to offer some reassuring details about the White House plan, which remains very much in the 'brainstorm' phase. Still, Mnuchin insisted that Trump is standing by the payroll tax holiday to put more money in the hands of workers. The Treasury is also hoping to delay tax payments and leave $200 billion of "temporary liquidity" in the hands of Americans.
Mnuchin said the White House hopes to strike a deal on the first part of the virus stimulus plan within the next 48 hours. His testimony follows rumors about the administration offering a potential 'bailout' to the American shale energy industry. Other stimulus actions will take "a week or two" he added.
Importantly, the Treasury Secretary also insisted that no market interventions are being planned (so no PPT?).
In remarks on Tuesday, CDC Director Robert Redfield said that America had lost valuable time tracking the virus; some regions now can merely try to cope with its spread rather than stop it. And during testimony on Wednesday, Dr. Fauci said that when it comes to the outbreak in the US, "the worst is yet to come" because the virus is "10x more lethal than the seasonal flu".
If the US doesn't handle the virus outbreak correctly, "many, many millions of people" will get the virus, he said.
The global coronavirus outbreak has hit a new milestone: It surpassed 120,000 cases overnight. For anybody who's still bothering to keep track, that's 15x the number of cases from the SARS outbreak, which continued for nearly a year before it finally petered out.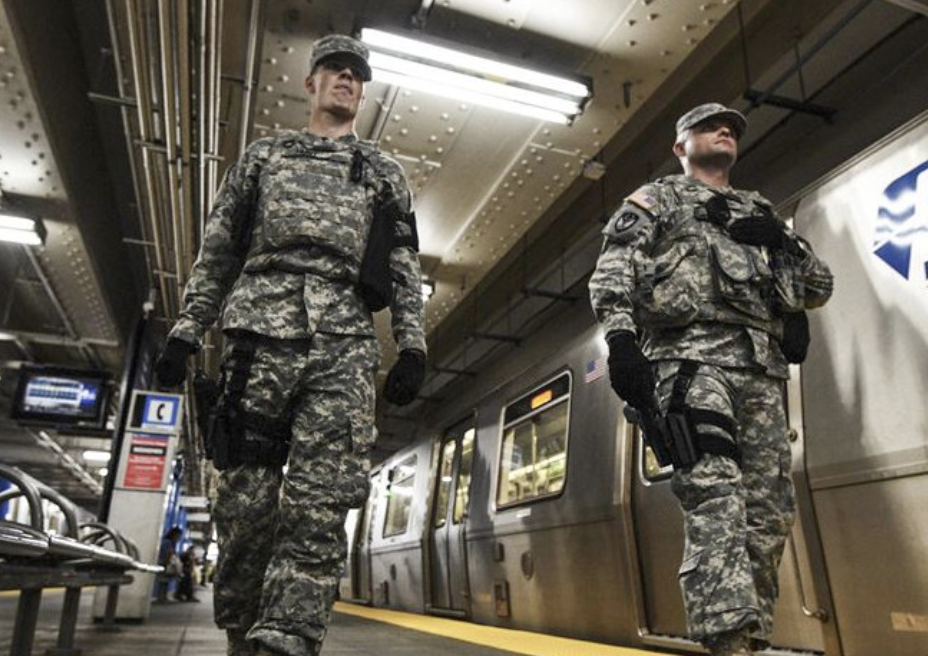 In the US, the coronavirus outbreak has reached a grim new milestone. Thanks to the administration's scramble to bring dozens of private and public labs on-line for testing across the country, the CDC has managed to confirm more than 1,000 cases of the virus. In the Westchester County town of New Rochelle, the epicenter of the outbreak in New York State, and the largest on the east coast, woke up to a 1-mile exclusion zone and national guard soldiers in the streets.
The town now looks like a "ghost town" according to several reports.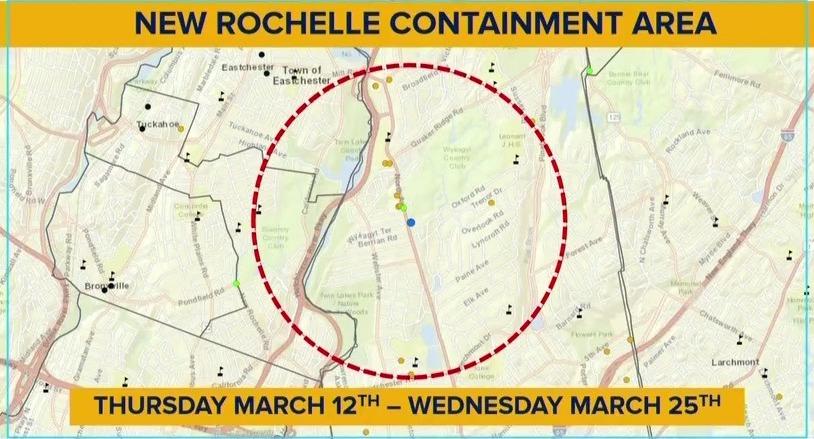 As the number of cases topped 1,000, the number of deaths has also climbed: Officially, there are 31 deaths and 1,039 confirmed cases, according to the Washington Post, which is significantly more than the number confirmed by Dr. Anthony Fauci during last night's press conference.
Across the US, Washington State's King County remains the epicenter of America's worst outbreak, with 273 cases . New York is No. 2 with 176 (13 additional cases have just been announced). After hinting about 'mandatory measures' last night that set tongues wagging about the possibility of Italy-style travel restrictions, Washington Gov. Jay Inslee is reportedly planning to announce a plan to…ban all events with more than 250 people, according to MyNorthwest.
At a press conference scheduled for Wednesday at 10:15 a.m., it is expected that Gov. Jay Inslee along with regional leaders and city mayors could announce a ban on large gatherings and events of 250 people or more in at least three counties. Any ban would affect upcoming sporting events in the area, including a home game for the XFL's Seattle Dragons on Sunday.

Inslee has been hinting at this for the past week as a possible preemptive move to curb the spread of coronavirus. Over the weekend, he stated that his office was considering enacting "mandatory measures" in the days ahead.

Monday night on MSBNC, the Washington governor spoke to Rachel Maddow, admitting that soon, the state was "going to have to make some hard decisions."

He further elaborated on that point during a Tuesday press conference, when he cited the need to "look forward ahead of the curve in Washington state."

"We need to look at what is coming, not just what is here today," he detailed, estimating that given limits on testing capacity, experts have told him there could be at least 1,000 untested coronavirus cases across the state.
So much for 'hard decisions'….
This immense build up, only to announce restrictions that are only 'slightly' more comprehensive than the milquetoast event bans embraced by Germany, France, Switzerland and others, brings to mind a tweet we noticed earlier highlighting the sometimes unintended consequences that half-measures can create.
On the east coast, the State of New York is asking businesses to voluntarily consider having employees work two shifts as well as allowing telework, Gov. Andrew Cuomo said in an interview with CNN, the network that employs his brother, where he has been making near-daily appearances in addition to his daily press conferences.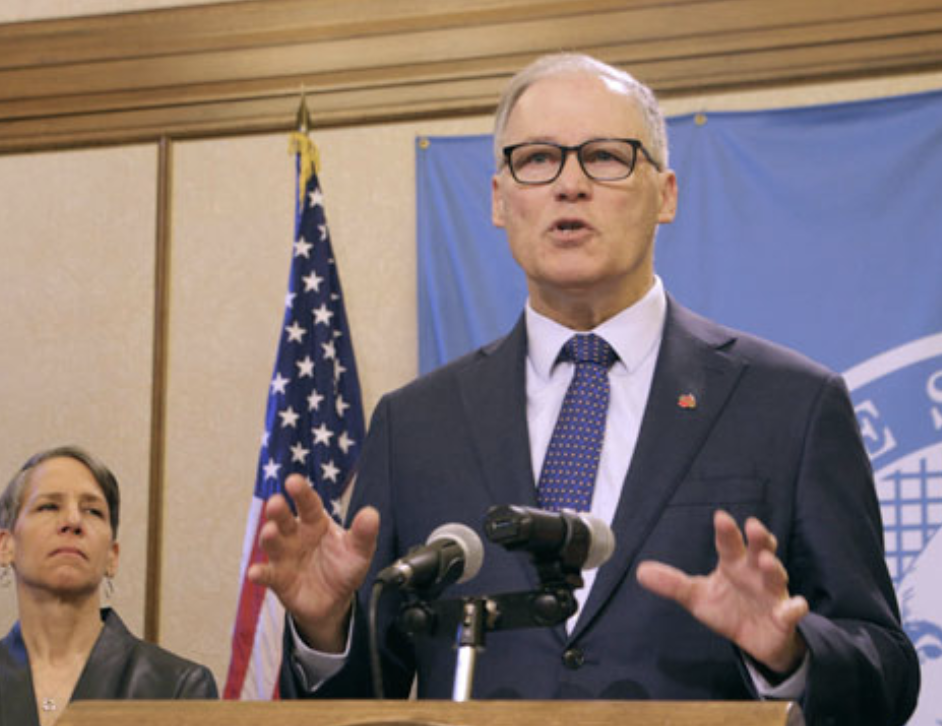 Gov. Inslee
"This is about reducing the density," Cuomo said. "The spread is not going to stop on its own."
He also announced 20 new cases of virus, bringing total in state to about 193, with most of the new cases diagnosed in New Rochelle, where the virus has clearly been circulating for weeks.
There have been reports that Democrats are pushing for a national emergency declaration which would trigger  tens of billions of dollars in funding from FEMA to help with the containment effort, and possibly to help grappled with the economic fallout from the outbreak.
Despite a few notable screwups lately (including a collapsed ad hoc quarantine that left roughly one dozen dead and many trapped in the rubble for days, Beijing continues to insist that it is winning the war against the virus, and while the true scope of China's outbreak might never be known for sure (some have estimated 1 million cases throughout China), officials did report a slight rise in cases on Wednesday which they blamed on 'imports from abroad.'
Officials reported 24 additional cases of coronavirus and 22 additional deaths on March 10, compared with 19 additional cases and 17 additional deaths on March 9, bringing the total number of cases in mainland China to 80,778 and death toll at 3,158. China's Hubei province said it will mandate a return to work according to different levels of risk in an orderly manner, adding that key areas of the Wuhan economy will be allowed to return.
After 11 days of falling case numbers, South Korea reported 242 additional coronavirus cases early Wednesday, bringing its total to 7,555, and 6 additional deaths, increasing the death toll to 60, reversing a streak of declines that had convinced many that Korea's outbreak had ended.
The South has made remarkable progress in fighting the outbreak, however, a new mass infection incident has popped up that is jeopardizing the government's widely praised response. Earlier, South Korean authorities told Reuters that they had tested hundreds of staff at a Seoul call center where the disease broke out this week. 13 of the infected workers at the Seoul call center used public transportation to commute, leading to at least 90 other people who had close contact with them being infected. Of the 90 cases mentioned earlier, 62 were in Seoul, and all were located near a public transportation hub connecting Seoul with Incheon and other major cities, via which the virus spread.
The spread has even made it into the armed forces, raising new fears about an outbreak in tightly packed barracks
Elsewhere, Japan is reportedly planning to declare a state of emergency due to the coronavirus outbreak after the number of domestic cases rose by the largest daily number yet, with 59 new cases bringing the total to 1,278, while the total death toll has climbed to 19 and there were 427 discharged from hospital on Tuesday.
Italy's total coronavirus cases rose to 10,149, from 9172, and the death toll increased to 631 yesterday from 463 in its largest daily jump yet.